Seymour Martin Lipset
Articles by Seymour Martin Lipset:
October 1998, Volume 9, Issue 4
January 2000, Volume 11, Issue 1
April 2001, Volume 12, Issue 2
In postindustrial societies, class is less important as a source of party cleavage. With the European left embracing a market-friendly "third way," political divisions in Europe are increasingly resembling those in the United States.
---
Books: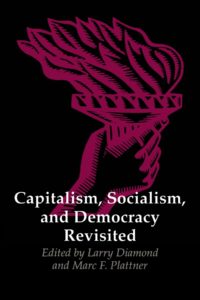 "Capitalism, Socialism, and Democracy Revisited is must reading for anyone who considers him- or herself a political economist, and it should also appeal to those probing the uncertainties of contemporary democratization."—Philippe C. Schmitter, Stanford University.