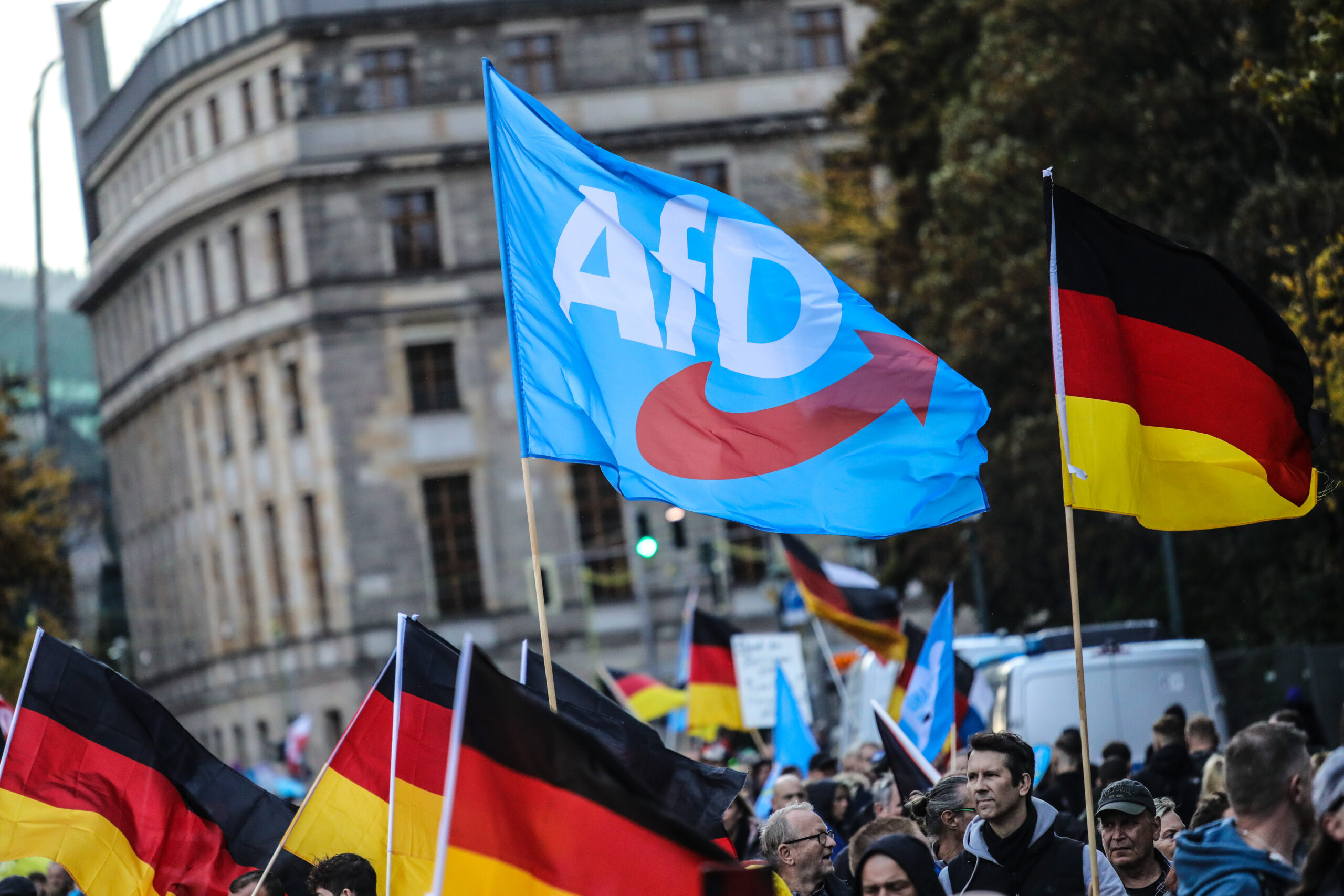 For years, they were a fringe vote. Now they are broadening their agenda, tapping into voter frustration, and getting Germans to favor them once again.
July 2023
If all politics is local, on occasion local events define all politics. On July 2, in Raguhn-Jessnitz, a town of 9,000 in the eastern German state of Saxony-Anhalt, the candidate of the far-right Alternative for Germany (AfD), Hannes Loth, won 51.1 percent of the vote to become the town's mayor. Just a few days earlier, Robert Sesselmann, a lawyer and regional lawmaker, won a runoff election in Sonneberg in the neighboring state of Thuringia. Sesselmann is now Germany's first AfD district administrator.
To consider the symbolism of both victories a political bombshell would be an understatement. AfD co-leader Alice Weidel enthusiastically celebrated a "milestone" for her party. In contrast, German government representatives, media commentators, and the Central Council of Jews in Germany expressed shock at this "watershed moment" and the "breaking of a political dam."
If it was indeed the breaking of a dam, cracks in the structure have been present for some time. In Germany's economically marginalized East, the AfD has for years been the strongest political force—garnering up to 32 percent of public support in an April poll. Now, however, the party is surging across the country, reaching 22 percent in the most recent nationwide poll—trailing the strongest party, the center-right Christian Democratic Union (CDU), by only 4.5 points. Emboldened by this unprecedented rise, AfD leader Weidel recently announced that "naturally" her party would nominate a candidate for chancellor.
Shifting Shape
In many ways, the AfD has always proven an able shapeshifter. The movement has routinely reinvented itself according to the needs of the day, and its current rise is no exception. Founded in 2013 at the height of the Euro Crisis, the AfD benefited from the 2015 refugee crisis and entered Germany's federal parliament with more than 12 percent of the vote just four years after its founding.
In the Bundestag, provocations soon became the AfD's hallmark. Notoriously, on election night in 2017, then–party leader Alexander Gauland threatened to "hunt down Frau Merkel" and on other occasions discussed pride in Germany's "World War II accomplishments." Other party officials made headlines by referring to Germany's Turkish community as "camel-jockeys." While these provocations catered to the AfD's radical base, they also made the party unelectable for the vast majority of German voters. This may now be changing.
Toning down the rhetoric, AfD leaders have been quietly cashing in on simmering frustrations surrounding immigration, inflation, the war in Ukraine, the legacy of covid restrictions, and the overarching policies of socio-ecological transformation envisioned by the federal government in Berlin.
In many ways, the current rise of the right indicates a broader crisis of trust. According to longitudinal studies, confidence in all political institutions in Germany has fallen for years. Most recently, however, the erosion of trust has accelerated dramatically, in particular, in regard to federal political institutions. The "RTL/ntv trend barometer," an opinion poll regularly conducted by the Forsa Institute, shows that in 2022 only 33 percent of voters trusted the federal chancellor and only 34 percent had confidence in the federal government—a decrease of an astounding 24 and 22 points, respectively, from the year before.
The collapse of trust is compounded by an extraordinary lack of optimism, with only 24 percent of Germans feeling optimistic about the future. What remains is a notable lack of economic security, despite a growing need, and mounting pessimism about the broader society's direction.
Not surprisingly, the three-party "coalition of progress," composed of Social Democrats, Greens and the pro-business Free Democrats, that formed following the departure of Angela Merkel has presented its policies as just that: necessary steps toward long-term stability. But many voters remain skeptical, in part, because potential long-term gains have clashed with real short-term costs. Given the repercussions, on several key issues, the coalition's ambitious plans for progress seem to extend beyond the political mandate granted by voters.
The gap between public sentiment and public policy is particularly notable in transformational projects initialized by the Greens. These include the phasing-out of nuclear power and obligatory upgrades to home heating systems in the fight against climate change. Moreover, this also extends to proposals with a pronounced cultural dimension such as the shift to a distinct "feminist" foreign policy and a proposed law on gender self-identification. Notably, these policies were introduced against the backdrop of a return to immigration levels not seen since 2015—not only from Ukraine but also from Syria, Afghanistan, and Turkey.
While these projects are part of the coalition agreement, they lack substantial public support; in some instances, the policies are opposed by two-thirds of voters. Consequently, currently more than 79 percent of Germans are unhappy with the coalition. Even among government supporters only slightly more than half of respondents feel the coalition is doing a good job.
My Partner, the Enemy
In view of such numbers, the recent AfD surge shouldn't come as a surprise. What is surprising, however, is the apparent inability of the opposition CDU to cash in on discontent. After all, Angela Merkel's nemesis Friedrich Merz took over the helm of the party in 2022 with the expressed goal to cut AfD support "by half." So far, however, it is instead his own popularity that has floundered.
Most recently, Merz declared the German greens a "main opponent in government." And just this week, he installed a new party general-secretary, ostensibly to further facilitate a strategic shift to the right. In theory, it may seem a plausible approach to close what political scientist Wolfgang Merkel has called the German "representation gap" caused by the CDU's leftward drift under Angela Merkel. But in practice, this gambit is unlikely to work unless more drastic changes follow.
After all, German voters will ask with some justification whether such moves amount to more than political theater given that Merz's party has formed coalitions with the Greens in the states of North Rhine–Westphalia, Schleswig-Holstein, Hesse, and Baden-Württemberg. Moreover, a recent CDU memo published by Germany's biggest tabloid shows that from all 188 legislative initiatives of the Berlin coalition, the CDU supported a total of 108. If this is political opposition, it certainly seems to be of a rather progovernment kind. Consequently, currently only 22 percent of voters trust the Christian Democrats to form a better government.
Anywhere, Somewhere, Everywhere
Despite the undeniable presence of right-wing extremists in the AfD, the current success of the party is fueled by more complex dynamics than a mere wave of demagogy. Recent polls show that for 67 percent of voters, their support of the AfD is not based on the party's positions but rather on the rejection of the policies offered by other parties. And while 66 percent of AfD voters consider the topic of immigration their primary concern followed by energy and climate (for 47 percent), less than a third of AfD supporters consider themselves fully ideologically aligned with the party.
Studies tracking voter movements add further substance to this particularity, showing that 32 percent of AfD supporters until recently backed centrist parties. Perhaps most importantly, the sociodemographic composition of potential far-right voters is drastically evolving. Whereas the stereotypical AfD voter was for years less educated, older, and economically marginalized, this is now in flux.
Recent data indicate that the AfD is making broad inroads into younger, more educated, and more affluent voter demographics. Currently, 33 percent of 18-to-29-year-olds and 43 percent of 30-to-39-year-olds could envision backing the far-right. Forty-two percent of potential AfD voters are situated in the highest income bracket, and 34 percent possess a university degree. These numbers confirm the observation from populist surges elsewhere that the rise of the right is fueled not only by actual but also by potential socioeconomic decline. In Germany, these changes have transformed what David Goodhart has labeled a clash between "anywheres" and "somewheres" into a situation in which AfD supporters are now everywhere.
In Search of Answers
The repercussions of Germany's right-wing surge can hardly be overstated. With upcoming elections in Thuringia, Saxony, and Brandenburg in 2024, the specter of an ungovernable East has become real. Even today, Thuringia can only be governed by a minority coalition of the far-left Linke, the Social Democrats, and the Greens, tolerated by the CDU "for the welfare of Thuringia" — an ideologically heterogenous marriage of (in)convenience that frequently feeds into the AfD narrative of interchangeable and ultimately ideologically uniform establishment parties conspiring against the will of the people. And even more importantly, federal elections are scheduled for 2025 but may well be called before —if the government falls.
Confronted with the rise of the right, Germany's political establishment is clearly struggling to come up with convincing answers. Strategically, the shock of Raguhn-Jessnitz and Sonneberg has so far brought about little more than new variations of fervent pledges to shun the AfD, stop coalition infighting, and improve government communication.
Undoubtedly, improving messaging and cooperation is always desirable. But taken as a whole, attempts to better explain unpopular projects to ostensibly recalcitrant voters amount to a dramatic misreading of the public mood. Transformation-fatigue, after all, can hardly be countered with more transformation. And liberally thrown-around accusations of neofascism and democratically questionable calls to ban the AfD or target AfD voting regions with economic boycotts are equally unlikely to turn the tide.
So far, Berlin seems determined to consider the problem first and foremost an economic one, hoping to defuse the situation through such tried and tested steps as increasing the minimum wage and bolstering the social welfare basic allowance as well as spending billions to keep rising energy costs affordable.
Given the existing economic inequities—between rich and poor, urban and rural, east and west—such measures are certainly justified. But at the same time, the continued rise of the right illustrates the limits to this strategy. After all, compensating the losers of transformation is no cure-all when the fundamental rationale for the transformation is being questioned. A more promising alternative is to confront the root-causes of Germany's summer of discontent with political responsiveness.
In this, the Berlin coalition would be well advised to take to heart the recent warnings of German president Frank-Walter Steinmeier. In a televised interview this week, Steinmeier called on all established parties to tackle the underlying problems instead of "automatically classifying any critical issue as populism." The president declared: "What we need is a boom of problem-solvers."
Thus recent attempts to reform the dysfunctional European migration system and to stem inflation, are steps in the right direction. The same can be said for rethinking the potentially divisive gender self-identification law, which would allow people to legally change their gender and name through an administrative act once a year. Ultimately and on a more fundamental level, the coalition in Berlin may need to reduce the pace of change and to recalibrate the balance of transformation and continuity to assuage the rage articulated by the right.
For this to be feasible, however, the often-apocalyptic language of socio-ecological change will almost certainly have to be toned down. After all, the current rise of far-right parties across Europe, from Italy and Spain to Austria, the Netherlands, Finland, and France, is proof that every stern declaration of "there is no alternative" is a free advertisement for radical political challengers—especially for a challenger who has chosen the word "alternative" as part of its party's name.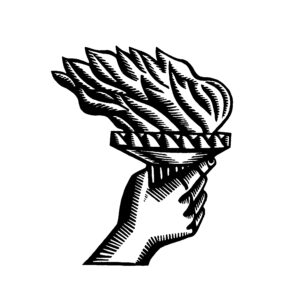 Michael Bröning is a political scientist and a member of the basic-value commission of the German Social Democratic Party.
Copyright © 2023 National Endowment for Democracy
Image Credit: Omer Messinger/Getty Images