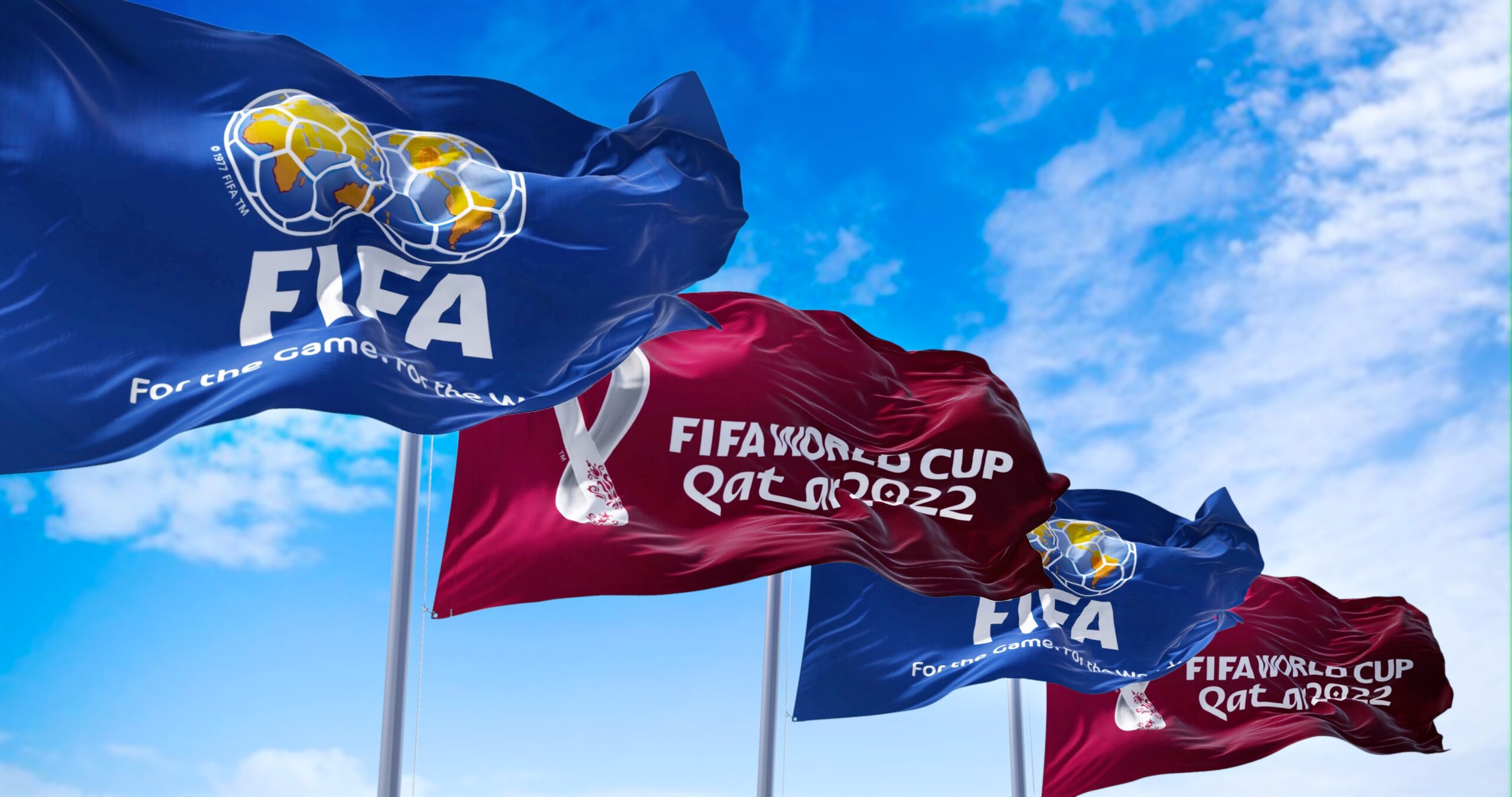 The government has spent billions preparing to host the 2022 World Cup. Never mind the abusive labor practices and human rights violations. It's betting that your love of the "beautiful game" will make you more fond of this tiny Gulf state, too.  
November 2022
The 2022 World Cup is finally here—a dozen years removed from a snowy December afternoon in Zurich when FIFA executives named Qatar host of football's most watched and celebrated tournament. For the million-plus visitors traveling to the Arabian Gulf to attend the tournament—and the projected 5 billion viewers tuning in from home—the monthlong competition promises to be quite the spectacle.
First, there are the sights. The Qatari government has spent at least $220 billion on infrastructure projects, from new rapid transit systems and luxury accommodations to revamped highways and airports. News reports have devoted considerable coverage to the country's economic and technological feats. Then, there are the sounds. Event organizers have leaned on some of sports' biggest names to promote the tournament, including retired footballer David Beckham. Their press statements have lent credibility to the quirks of Qatar's off-season cup. And of course, there are the feelings. Beyond its striking stadiums, the country has rolled out family-friendly entertainment hubs, world-class museums and resorts, and daily festivals and fan zones—the latter, stocked with live music and alcohol. Attractions like these are meant to energize tourists wary of toting their hometown loyalties to an unfamiliar locale.
The sights, the sounds, the feelings—all make this World Cup the latest installment of a mega event that, for the last decade, has hopscotched across emerging markets and now landed on an entrepôt in the Middle East. And for Qatar's critics, that is precisely the problem.
Flattering news spreads, celebrity spin doctors, and immersive atmospheres are among the signs of a troubling practice known as sportswashing. First coined in 2015, the term refers to a state's use of international sports to clean its public image. Laundering states, the argument goes, bear blemished records that harm their image and impede their interests, so they invest in sports to distract target audiences from their faults. In that respect, sportswashing is a form of reputation-laundering, wherein sports serve as a tool of information manipulation. And because autocrats so often preside over regimes of ill-repute, their forays into sports routinely draw charges of laundering.
Qatar is hardly the first state to brandish the tool. Fascist Italy's 1934 World Cup, Nazi Germany's 1936 Summer Olympics, and Communist China's recent Winter Olympics are frequently cited in treatments of sportswashing. The Gulf state, however, has proven itself among sportswashing's ablest practitioners. Democratic actors would do well to remember this as the World Cup comes and goes. Qatar's laundering—and the example it sets for other authoritarian regimes—is certain to endure.
Qatar's Sports Empire
FIFA's decision to award Qatar the 2022 World Cup was no doubt momentous. But blink, and you may have missed the many ways that Qatar's football ambitions extended beyond its winning bid. A week after securing the tournament, Doha's development nonprofit, the Qatar Foundation (QF), struck a $220 million deal with FC Barcelona to sponsor the Spanish club's kits. Six months later, an arm of Qatar's sovereign wealth fund, Qatar Investment Authority (QSI), paid as much as $58 million to take over French club Paris Saint-Germain. And just a couple of months after that, the state's media conglomerate, Al Jazeera, doled out $130 million for the rights to broadcast top-flight Ligue 1 matches to French households. These efforts have only accelerated in the years since, with megastars such as Lionel Messi, Neymar, and Kylian Mbappé donning jerseys emblazoned with Qatar Airways.
Qatar's ambitions are not limited to football, either. This small Gulf nation has spent decades building a vast sports empire powered by sweeping investments in clubs, competitions, and confederations on six continents. These investments are indicative of how sportswashing in the present century has advanced from that of centuries past.
For one, would-be launderers no longer rely on staging competitions. Where Italy's Fascists and Germany's Nazis turned to mega events to lure and impress foreign publics with displays of iconic infrastructure and athletic success, states today readily engage these publics on their own soil. Qatar, for example, has multiple avenues for reaching audiences in France: through commentary, by shaping the content they stream; through commerce, by partnering with the brands they buy; and through community, by running the clubs they back. From hosting and broadcasting tournaments to sponsoring and owning teams, Qatar's wide-ranging approach to foreign engagement takes its cues from football's value chain—the business activities required to deliver the sport to consumers. Launderers like Qatar have simply scaled their involvement to new segments of the value chain.
Additionally, present-day launderers no longer work solo. Italy and Germany's autocratic regimes received the lion's share of credit for the mega events they hosted at home; to access foreign societies, though, such regimes must share the credit with intermediaries. In Qatar's case, two kinds of intermediaries lead the way: state-owned enterprises such as QSI and beIN Sports (formerly a subsidiary of Al Jazeera), and government-organized nongovernmental organizations like QF. These firms are responsible for sealing dozens of multimillion dollar deals with franchises and federations across Europe, North America, and Oceania, embedding Qatari brands and benefactors along the way. Intermediaries like these persist and thrive by the grace of globalization—namely, the panoply of regulators and porosity of sectors that permit state-backed firms to maneuver. This maneuvering is how actors in open societies become agents of laundering principals.
Sports investments are attractive to states because they come with payoffs. Some of these—arguably the more important—are financial. Indeed, journalists and advocates who gloss over the economics of sports miss a key motivation behind state participation. The football economy, for instance, is volatile, owing to the industry's relegation system, patchwork of rules, and uncapped labor costs. Yet, by mastering football's value chain, Qatar has found ways to turn a profit: Qatari broadcasters and sponsors contribute funds to Qatar-owned clubs, bankrolling their talent, and then the clubs use that talent to promote Qatari broadcasters and sponsors, boosting their bottom lines. Profiting off sports is one avenue for this rentier state to diversify its oil and gas economy.
How Laundering Pays Off
Alongside these financial payoffs are reputational ones. Sportswashing is more than the coincidence of athletics and offenses. For aspiring launderers, it is about the bankability of sports to discredit, displace, and devalue potentially damaging content reaching global audiences. Autocrats turn to laundering when the prospects of moving minds by manipulating information appear reasonable.
Let's start with the sounds—that is, when sports are used to discredit damaging content. Here, laundering takes the form of a character reference: an influencer sharing a testimonial to lend their credibility to another's cause. In some cases, these references attempt to advance favorable narratives. In 2019, celebrity athlete David Beckham visited some of Qatar's World Cup facilities, praising the country's "great" and "safe" stadiums and hotels. The Englishman's observations may have been genuine, but they belie widespread reports of migrant exploitation across the peninsula's construction and hospitality sectors. These include wage discrimination and passport confiscation, cramped and unsanitary living accommodations, and—when filing grievances—employer retaliation and state detention.
In other cases, these references aim to counter negative commentary. In 2014, a British news channel discovered that Qatar had hired global PR firm Portland Communications to spin World Cup adversity using a manufactured blog. And more recently, a Sunday Times investigation found that a criminal network based in India had hacked the emails of World Cup critics, reportedly at the behest of Qatari authorities. Dogged journalism did well to expose these efforts, but one wonders how else the Gulf state may be manipulating the marketplace of attention.
Then we have the sights—that is, when sports are used to displace damaging content. In these cases, laundering operates like a smokescreen: a haze of emergent news stories clouding coverage of other events. Many of Qatar's critics couch their accusations in this argument, convinced that, with each new World Cup milestone, audiences become less aware of, less concerned with, less moved by, the state's misdeeds. But does that assertion hold up against the evidence?
Not yet. To date, only one study has attempted to analyze news coverage of Qatar's World Cup. Based on a cross-section of British newspapers, it concluded that the coverage was "overwhelming negative," with abusive labor practices and human-rights violations the key driver. Turns out, the World Cup has not displaced damaging content—as observers of sportswashing might believe—but likely invited it.
To be sure, Qatar has tried to shape how foreign media outlets cover its tournament. Just last month, Qatari authorities updated the terms of the permits that they issue to international film crews, barring them from recording at government buildings, universities, and labor camps. Interviewing exploited migrants has become that much more difficult. However, it appears that Qatar's cup may be triggering what political scientist Victor Cha calls the "Olympic catch-22," wherein sporting events like the Olympics spotlight the unflattering side of closed societies. Sportswashing, in other words, is not necessarily the boon it is made out to be.
What to Watch For
Beyond the sounds and sights are the feelings—that is, when sports are used to devalue damaging content. This is laundering IRL: atmospheres so immersive and entertaining as to infect users' emotions. Pregames and tailgates, chants and banners, roars and revelry—the matchday experience, for spectators, can be so seductive and electric as to alter the way they think about besieged brands and repressive nations. Qatari officials are counting on that, going so far as to offer fans of tournament-bound teams free flights, free tickets, and free housing to come and experience Qatar and its cup in person. The catch, of course, is that spectators must participate in a choregraphed performance to open the event, and must report to authorities any criticism of Qatar they discover on social media.
Whether this last form of sportswashing works out is what's at stake right now, as football fans in open societies begin planning which games to watch, with which friends and family, in which bars and biergartens. With the games on, the types of news articles they share in the group chat will matter. The kinds of personalities they pay attention to will matter. The topics of conversation they bandy about will matter. Ultimately, how Qatar's World Cup is discussed now, and remembered later, will shape whether the country's staggering investments over the past decade pay off reputationally.
Because once the tournament is over, the athletes will return to clubs like Paris Saint-Germain—and the laundering will move on to its next cycle.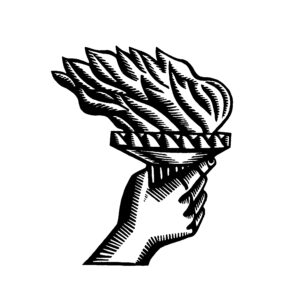 Sarath K. Ganji is a Penn Kemble Fellow at the National Endowment for Democracy and previously served as a U.S. Fulbright Scholar based in the Arabian Gulf. His work explores the role of sports in autocratic regimes' global influence operations.
Copyright © 2022 National Endowment for Democracy
Image Credit: Rarrarorro/Shutterstock.com